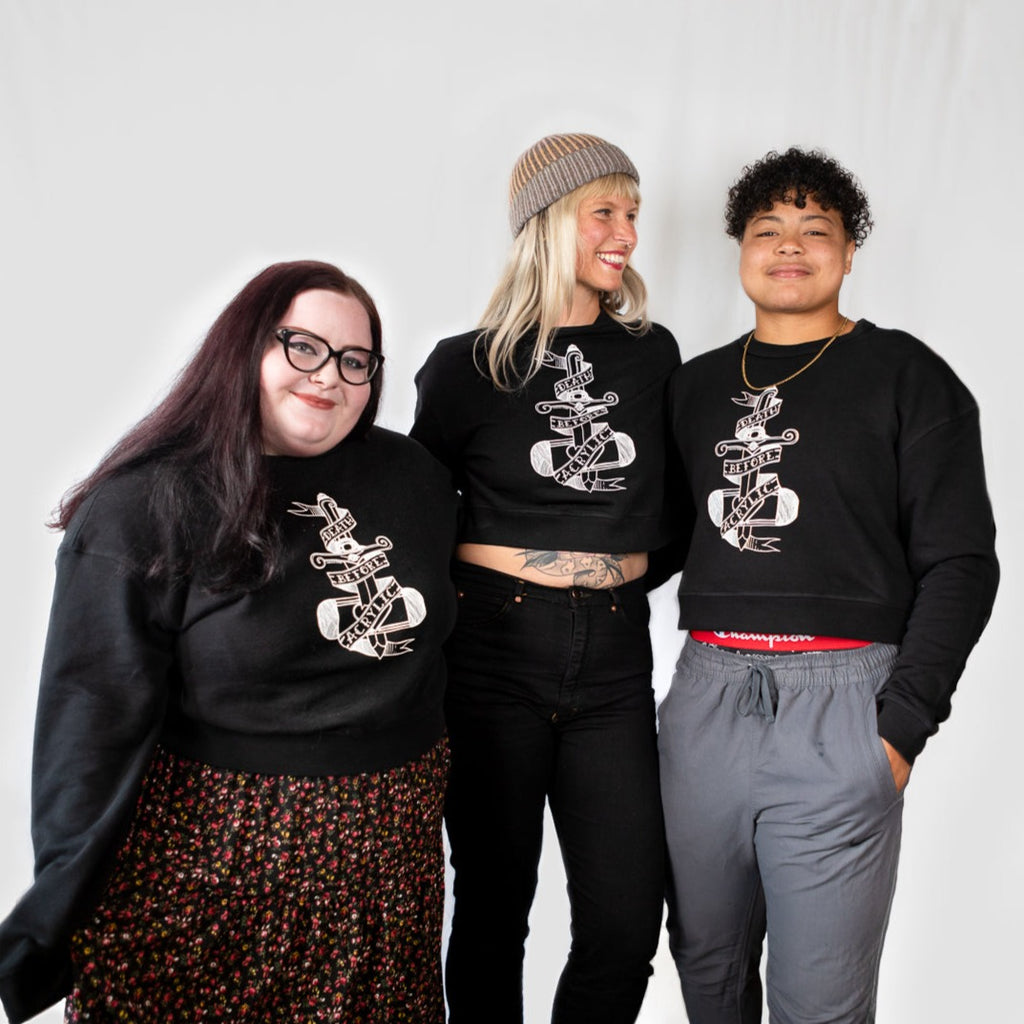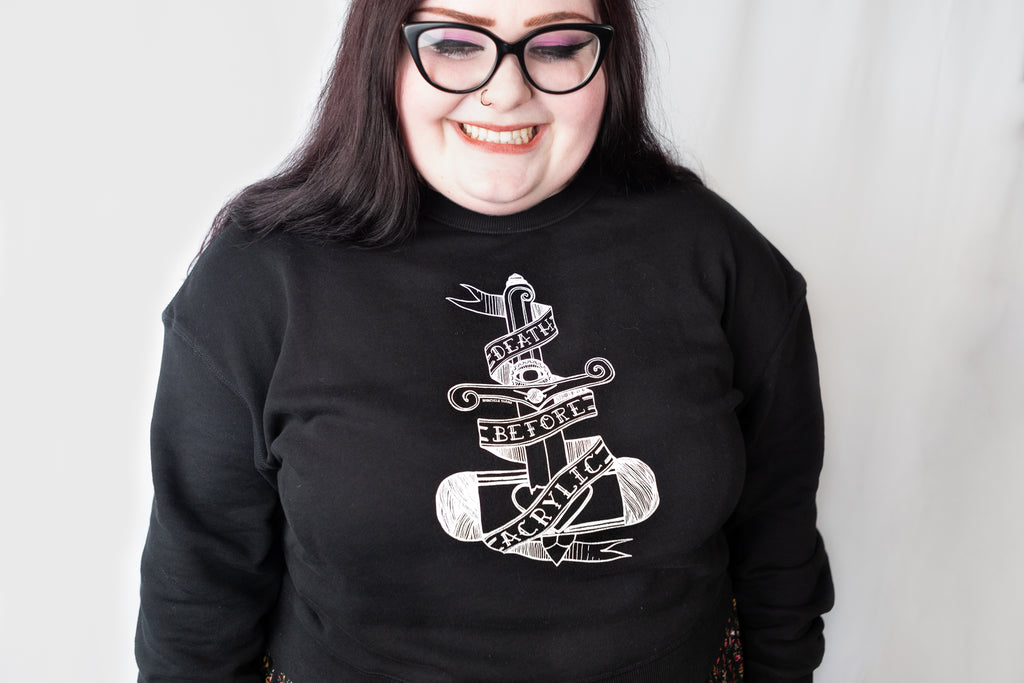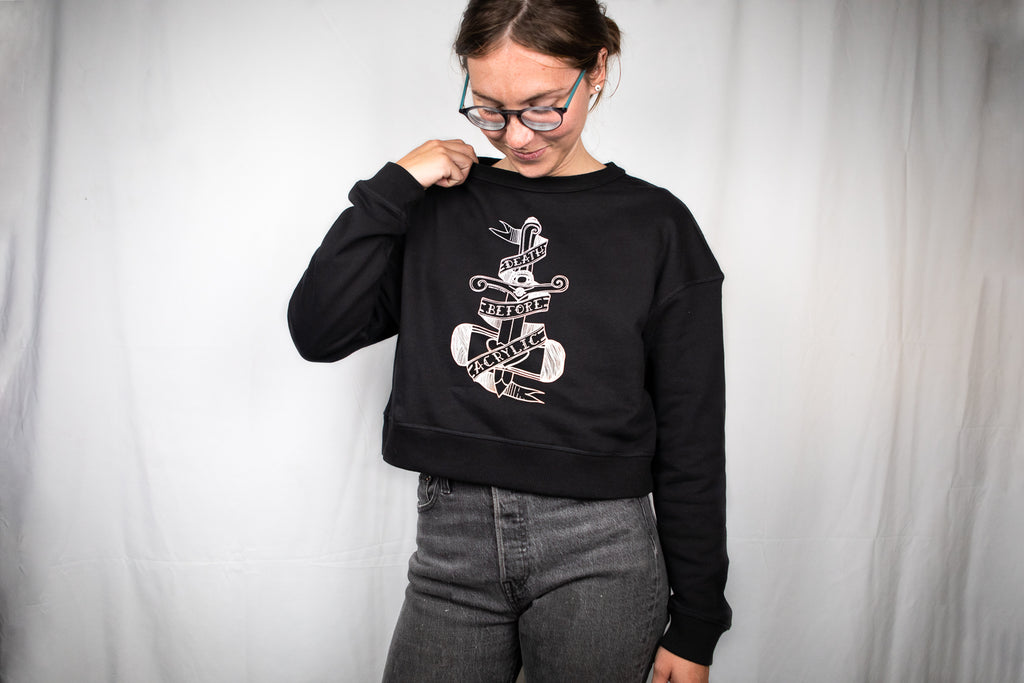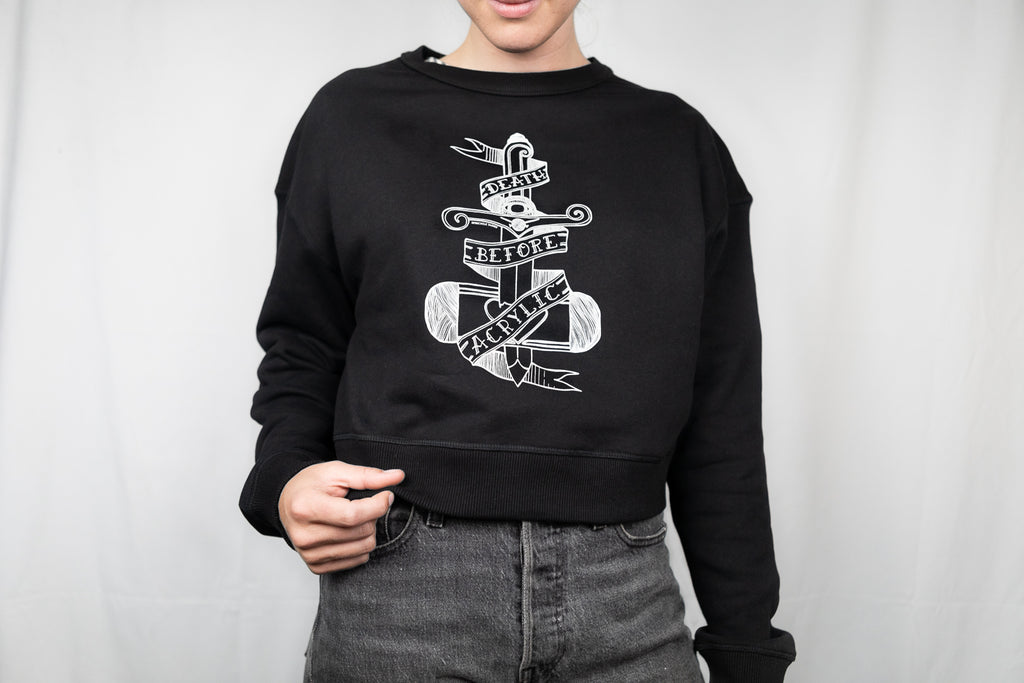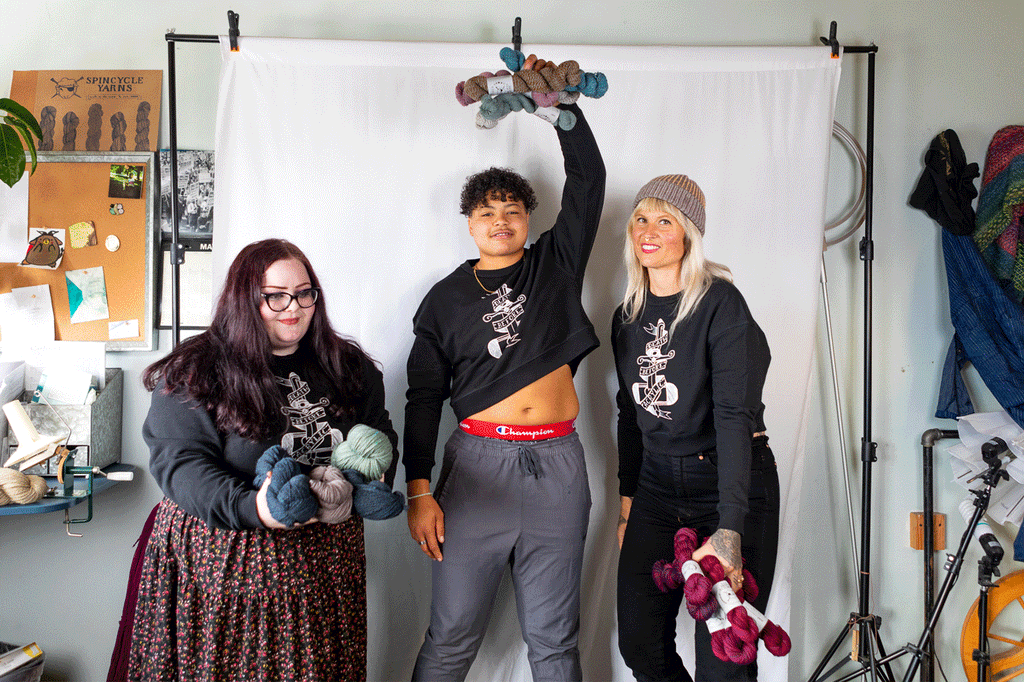 DEATH BEFORE ACRYLIC cropped sweatshirt
$ 35.00 $ 50.00
Some of y'all who have been with us since the way back might remember this excellent design, combining our love of a good tattoo-referential joke with our staunch dedication to slow fashion and natural, sustainable fibers.
We've been promising its return for too long now - hey, sometimes we get too busy with this whole yarn thing and forget about a merch drop for a few years! - and now it's back.
If you're here, you probably get it, but if you want to read more about the harmful effects of plastics in textile manufacturing and/or microplastics in the ocean, here are a couple of helpful jumping off points: 
Acrylic Yarn Vs. Natural Yarn: Environmental Impact
Oh, and not to bury the lead here, but we will be donating 10% of sales from our Death Before Acrylic merch to this awesome non-profit, Ocean Blue Project, founded by father-and-son environmentalists and tribal members of the Choctaw Nation of Oklahoma, and based in Oregon. Please hop over to their site to read about the incredible work they are doing!
This cropped fit sweatshirt is 100% cotton and ready to ship now! Read below for model size info, and/or see the last photo for the manufacturer's size chart.
Kate is wearing a S and her measurements are:
height: 5' 7" / chest: 36" / waist: 31"
Natayah is wearing a M and her measurements are:
height: 5' 7" / chest: 39" / waist: 34"
Kaelin is wearing an XL and their measurements are:
height: 4' 9" / chest: 55" / waist: 49"
 Olivia is wearing a S and her measurements are:
height: 5' 4" / chest: 34" / waist 26"
ALL SALES ON SALE ITEMS ARE FINAL!  

ABOUT SPEED ... Our analytics tell us that the people who are able to complete checkout fastest are folks with Apple Pay on their phones, or PayPal and Google Pay on their laptops. Those folks trying to type in their credit card numbers at checkout almost never make it through in time.

ABOUT "CART JACKING" ... Adding items to your cart won't reserve it for you. It isn't yours until you make it all the way through the purchase process. We get a lot of emails from folks whose coveted items disappeared from their carts while shopping for more or while checking out. Unfortunately, we aren't able to offer shopping cart holds. That's a very sweet feature you've probably enjoyed when buying airline or concert tickets, but it's just not a thing on small business commerce websites.