New Pattern Releases...
Fingerless Mitts: Two NEW Patterns!
This lovely pattern release, from Lydia Gluck, featuring our Dyed In The Wool yarn is in
Pom Pom Quarterly (Winter 2013)
! If you haven't heard about this gorgeous little knitting mag,
that's probably because it's so very British. Take heart, we are seeing copies more often in yarn stores stateside, and you can order a print+digital issue online. View details about
Tuuli
on Ravelry and order some DITW in
Pick Your Poison
today.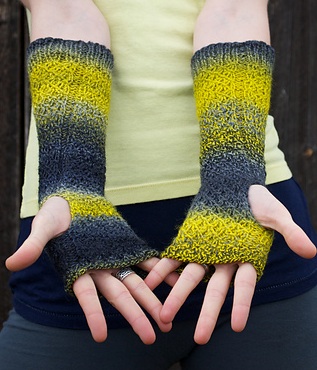 If you're like us, you can't own enough fingerless mitts! Our superwash millspun yarn seems to be a favorite among designers for these practical armwarmers. Check out Andrea Rangel's newest design using Spincycle! It's a free pattern in the online magazine
Knitty
, and it uses two skeins of Dyed In The Wool in
Pussywillow
, which is also the name of the pattern!
Get Spincycle Classic Handspun + Dyed In The Wool... Locally!
We are proud to announce that the following stores now carry a lovely selection of our yarns.
Grey Gardens
Our top secret pattern is released, and it's in Knitty! Grey Gardens is a one-skein entrelac turban, with a twist! A literal twist!
Renegade by Westknits
Wanderlust
Our knitwear pattern is in Knitty!
Wanderlust
is a pair of fingerless gloves with deep, sidewinding cables. This is the kind of warmth we need up here in the PNW while we try to ride our bikes in the rain or have to roll out of bed at dawn to let the chickens out. (Just some examples pertinent to a couple of spinsters!)
Knit.Wear and Spincycle Yarns!
We are just as pleased as punch to have our yarn featured in a pattern from Knit.Wear. Our favorite designer,
Myrrhia Resneck
, designed this Octagon Dot Pullover using our worsted weight singles,
Chicken Payback
. Head over to the Spincycle store to get some for yourself!
Ioanna
Check out this amazing pattern from
Ann Weaver
. It uses two skeins of our worsted 2-ply, shown in Castaways & Cutouts.
You Zig. I Zag.
Because we love our customers so much, we are offering our latest pattern for free! It's available on Ravelry (click
here
for the link) and features Grumpy Birds and Greed, two of our favorite colorways. One skein of each and you'll be knitting your way to fabulous.
We're Getting Fresh.
If you're here, you've noticed that we've gotten a fresh look. (A million thanks to
KeyLime Design
!) Kate and i are still the same little spinsters, but our website is revamped, our online store has moved to Etsy, and... now you can like us on
Facebook
and follow us on
Twitter
!
So much awesome!
Policies
We are happy to offer a $6 flat shipping rate for all domestic orders! Once you purchase your yarn via the website, we ship on the next business day by USPS Priority Mail. Because of our limited dyelots and colorways,
all sales are final
.
We gladly take check, cash or credit card at our studio and at out-of-town craft fairs. If you have questions before making a purchase, give us a call. We'll help you find your perfect yarn!
Non-U.S. customers:
International shipping rates vary from $13-24. We ship your yarn out on the next business day using USPS International Economy Mail.
If you have any questions, please
e-mail
us or call 360-752-0783.